There are times that many families are unable to enjoy a meal together because they cannot have everyone at the same table. Meal times should be a family event. Many wheelchair users feel isolated, especially if they are unable to get close enough to the table to sit with the rest of the family. Unfortunately, this does not just happen at home.
Sadly, many families just do not eat together at the table. We want to stop this from happening. Due to our table options, there are easily something that can work for your family.
Currently, we offer three different tables that can be used to adjust the serving height to make it easier for a person using a wheel chair. All three models can raise or lower. Allowing for individuals to comfortably sit at the table and enjoy their meal or an activity. Two sides that adjust, four sides that adjust up and down, and four sides that adjust up and down as well as can move to the side to allow it to be more of a counter.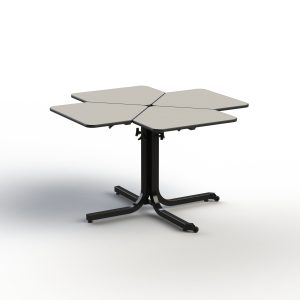 Are they just for the dining room?
No! They are for any room that you would need to have the surface adjusted. Therefore, dining rooms, entertainment rooms, and activity areas, can benefit on having our tables. They are for more than just meal times with family!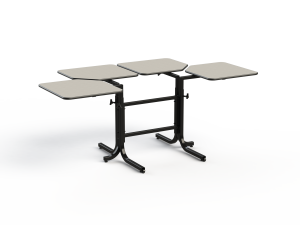 Interested in more information for your home or assisted living facility?
Contact us today at our toll-free number or go to our website for more information.