ComforTek Seating recognizes that each worship community develops its own style of corporate worship and that each style of worship may require different features in the chairs that it selects.
Here are 4 ways our Summit series of worship chairs provides unequalled quality for churches looking for more permanent seating options in their sanctuary.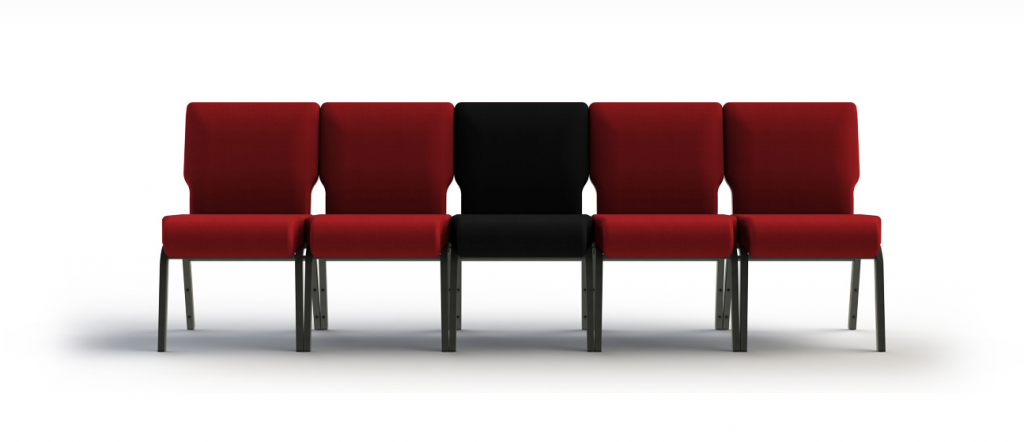 1. Seamless seating, unsurpassed comfort
The Summit series of chairs allow seats and backs of adjoining chairs to touch, providing a pew-like look and feel. Even guests seated across the seam of two chairs will experience unsurpassed comfort.
2. Shared arm
A typical layout configuration consists of an armed chair inserted every third chair (the inserted armed chairs remain interlocked with the armless chairs). These chairs also adapt to accommodate the needs of seniors and others who need a helping hand getting in and out of worship chairs.
3. Enclosed backs
Aesthetically pleasing from every angle, our enclosed back chairs are a popular choice for permanent sanctuaries looking for a finished look from all views. With an enclosed back chair, the upholstery completely encloses the back, and no frame is visible, even from the rear. This leaves your rows with a polished, consistent flow.
4. Attachable kneeler for worship
An attachable kneeler has been designed to mount on to each of the Summit series of chairs. The attachable arm allows the kneeler pad to extend 13″ behind the chair to which it's attached. The added clearance and retractable feature provide comfort and ease of operation for all worshippers.