Our Titan products are designed to make caregiving easier. Here are 3 issues caregivers face each day and how the Titan products solve those issues.
How does a caregiver easily move a seated person to-and-from the table?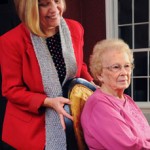 The Titan with Royal EZ enables a caregiver to gently move a seated person to and away from the table. It can easily move 300 lbs with little effort. In fact, it's so easy, a child can do it!
How does a caregiver assist a person requiring the use of a walker get seated at a table?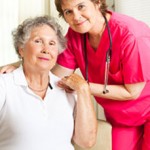 Because the seat/back of the Titan chair swivels 90° to the left and right, it's ideal for those who use a walker. With the Royal EZ included, a seated person can be moved to the table with ease.
How do spouses enjoy a meal together when one of them requires the use of wheelchair?
The Titan Series of tables is designed for multiple applications where different tables heights are needed, specifically for individuals in wheelchairs. They will be able to enjoy a meal without any inconvenience to others.